Seeing the snatches of the warmer weather has us at Willow and Me nearly reaching for the suncream and with thoughts of going to the beach, we have opted to look at nautical styles for children's bedrooms.
To achieve the nautical and seaside children's bedroom theme, traditional colour palettes of navy, white and red are popular choices. If you are seeking to add an alternative spin on these colours, try using either aqua, greens or oranges mixed with the traditional colour palette. It will freshen up the room and give it a lovely modern edge. Alternatively using soft greys, duck egg blue or aqua teamed with white will give the room a softer appearance.
Be creative, use shells or pebbles collected at the beach, porthole mirrors, woven baskets, stripey storage bags and boat themed accessories to add to the seaside theme. Stripey rugs have a wonderful effect, especially on wooden floors. John Lewis 'Ahoy There' stripey rug is a perfect accessory to create the nautical style.
Stripey bedding works really well too. Runaway Coast do some fabulous stripes in the traditional blue, white colour palettes with lovely greys or pinks as alternatives.
We have gathered together a few images to give you some idea of what can be created.
Image courtesy of www.houzz.com
Image courtesy of www.houzz.com
Image courtesy of mojomums.co.uk







Image courtesy of houseofmanyhues.com
Image courtesy of www.houzz.com
Image courtesy of www.houzz.com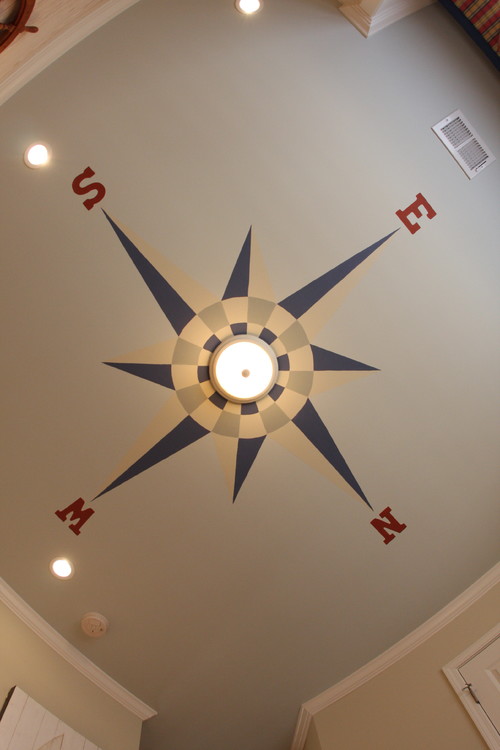 Image courtesy of www.houzz.com
Image courtesy of www.houzz.com
Image courtesy of www.notonthehighstreet.com | Storage Bag by Drift Living


Image courtesy of www.notonthehighstreet.com | Cushion by Leon + Coco






Image courtesy of www.runawaycoast.co.uk
Image courtesy of John Lewis: 'Ahoy There' stripey rug